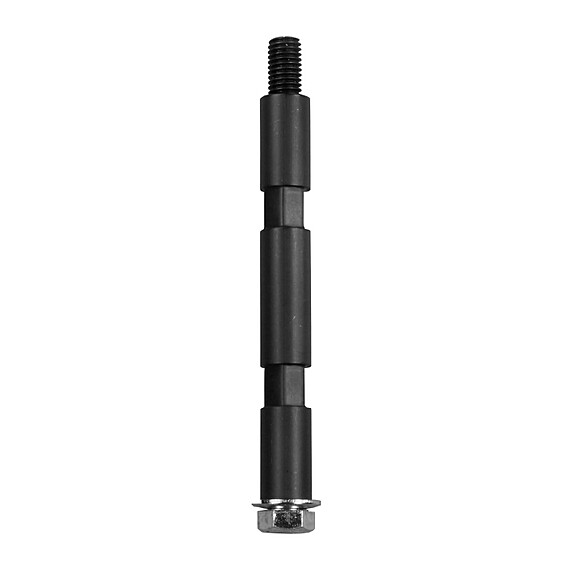 The Mega-Drop Down is a quick and inexpensive way to place a light fixture below the pipe or grid. It now has new wrench flats for easy adjustments.
The Mega-Drop Down is made from solid 3/4" diameter 6061 T-6 aircraft grade aluminum and is made in 6", 9", 12", 18" 24", and 36" lengths. The Mega-Drop Down has a 1/2-13 tpi x 2" steel stud to fasten into a Mega-Clamp, or similar clamp that has 1/2"-13 female threads. The lower end of the Mega-Drop Down has 1/2-13 female threads to bolt the light fixture's yoke to the drop down with a 1/2-13 × 1″ grade 5 zinc plated bolt and Belleville washer. When assembling the Drop down to the Mega-Clamp, use Loctite Red or other permanent thread-locking compound to make the connection secure.
METRIC
Available in M-10 and M-12.
Working Load Limit

600 Pounds

Hardware

1/2-13 tpi x 2" Steel stud to fasten into a Mega-Clamp.
1/2"-13 × 1″ grade 5 hex head zinc plated cap screw with our HBW1 Belleville washer

Dimensions

3/4" Diameter x 6"+

Weight

MDDB6 – 0.39lbs (MDDB9 – .51 lbs.) MDDB12 – 0.66lbs MDDB18 – 0.92lbs MDDB24 – 0.97lbs MDDB36 – 1.7lbs

Case Quantities

each
Order Codes
MDDB12 Mega-Drop Down 12 inch, Black
MDDB12-M12 Mega-Drop Down 12 Inch with M12 Adapter, Black
MDDB18 Mega-Drop Down 18 inch, Black
MDDB24 Mega-Drop Down 24 inch, Black
MDDB36 Mega-Drop Down 36 inch, Black
MDDB6 Mega-Drop Down 6 inch, Black
MDDB6-M10 6" Mega-Drop Down with Metric M10 Stud, Black
MDDB6-M12 6" Mega-Drop Down with Metric M12 Stud, Black
MDDB9 Mega-Drop Down 9 inch, Black
MDDW12 Mega-Drop Down 12 inch, White Powder Coat
MDDW18 Mega-Drop Down 18 inch, White Powder Coat
MDDW24 Mega-Drop Down 24 inch, White Powder Coat
MDDW36 Mega-Drop Down 36 inch, White Powder Coat
MDDW6 Mega-Drop Down 6 inch, White Powder Coat
MDDW9 Mega-Drop Down 9 inch, White Powder Coat