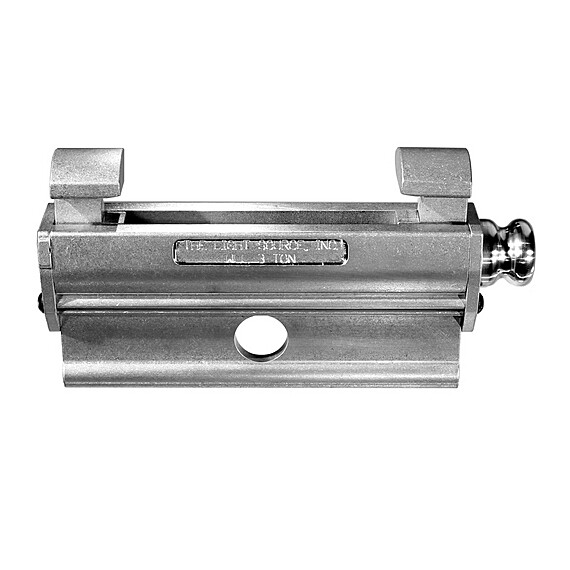 The Mega-Beam Clamp is a low profile, sliding jaw design that allows the load to be secured as closely as possible to the I-beam. The 8" model is load rated for 3 tons.
Two aircraft aluminum jaws are adjusted on the 3/4"-6 TPI Acme threaded shaft. The spring loaded handle locks after adjustment. The center hole is 1 1/2".
The Mega-Beam Clamp fastens from 2" to 8" wide on I-beam flanges up to 1" thick. For I-beam flanges up to 2" thick, Mega-Beam Clamps are available with 2" jaws. The 2" jaws may also be purchased separately.
The aluminum construction is half the weight of steel units and has a wider gripping range.
The Mega-Beam Clamp can be used for both permanent and temporary installations.
The 8" Mega-Beam Clamp is available with 2 attached Mega-Couplers. The design load limits of the Mega-Couplers de-rate the load limit to 1 ton. Also, the load must be evenly distributed.
Working Load Limit

6,000 lbs. / 2720 kg

Dimensions

14" L x 7.5" T x 2.75" W; Center Hole - 1 1/2"

Weight

10.25 Pounds

Case Quantities

Each
Order Codes
MBC3T-8B 8" Mega-Beam Clamp, Black
MBC3T-8B-2 8" Mega-Beam Clamp with 2" Jaws, Black
MBC3T-8B-MLM 8" Mega-Beam Clamp with 2 Mega-Couplers, Black
MBC3T-8M 8" Mega-Beam Clamp, Silver
MBC3T-8M-2 8" Mega-Beam Clamp with 2" Jaws, Silver
MBC3T-8M-MLM 8" Mega-Beam Clamp with 2 Mega-Couplers, Silver