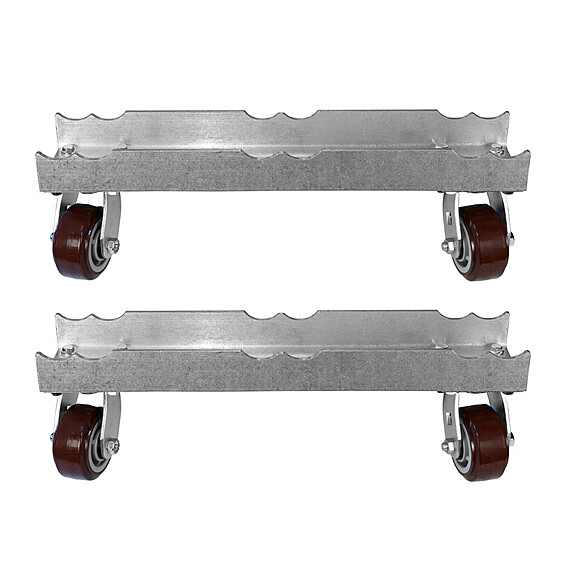 The Mega-Truss Dolly easily holds truss for transport or storage. The 5" aluminum C channel has CNC milled cutouts for truss to ride in. It is important to secure the trusses tightly to the Mega-Truss Dolly with an E-Clip ratchet strap before moving.
The 4″ × 2″ heavy duty castors are rated for 480 pounds each. A pair of Mega-Truss Dollies will carry up to 1900 total pounds of truss.
Mega-Truss Dollies are available in a variety of sizes, with additional sizes available upon request. Dollies are sold as a set (pair).
E-Clip ratchet straps are available and are sold separately. Each strap is 16' in length. Since truss dollies are sold as a pair, you will need to purchase 2 E-straps for each set of dollies.
Part Number: MTDESTRAP
Working Load Limit

960 Pounds per dolly

Hardware

Encore 4″ × 2″ 480# rated casters each secured with 4 each 3/8″ × 3/4" grade 5 Hex head cap screws and serrated hex flange nuts.

Dimensions

U Channel is 5"W x 2.5"T x 1/2" Wall

Weight

Avg. 26 pounds each pair

Case Quantities

Sold as a Pair
Order Codes
MTD12/2-20.5/1 Dolly for two 12" truss or one 20.5" truss (24" long), Silver
MTD12/3 Dolly for three 12" truss or two 18" truss (36" long), Silver
MTD12/4 Dolly for four 12" truss (48" long), Silver
MTD15/2 Dolly for two 15" truss (30" long), Silver
MTD15/3 Dolly for three 15" truss (45" long), Silver
MTD16/2 Dolly for two 16" truss (32" long), Silver
MTD20.5/1 Dolly for one 20.5" truss, Silver
MTD20.5/2-12/3 Dolly for two 20.5" truss or three 12" truss (41" long), Silver
MTDESTRAP E-Strap, 16' Long, Grey, Silver
MTDGLOBAL11.4375/2 Dolly for two 11.4375" Global Truss, Silver
MTDGLOBAL11.4375/3 Dolly for three 11.4375" Global Truss, Silver
MTDGLOBAL11.4375/4 Dolly for four 11.4375" Global Truss, Silver